Wood is a favorite material for driveway gates for many reasons. The material can evoke a warm, welcoming feel with long-term appeal. It's the preferred choice for solid-front gates (which offer maximum privacy) as well as traditional farmhouse and ranch gate designs.
One thing that wood is not commonly known for in the driveway gate design world is its versatility in ornamental looks. Unlike all of the intricate swirls and curls of wrought iron, wood simply doesn't have the same malleability. For this reason, many people opt for metal when they want a highly customized, ornamental driveway gate design.
However, if you have your heart set on a custom wooden driveway gate but don't want your property to look like all the neighbors' homes, Tri State Gate has some examples of previous gate installations that are truly eye catching and one-of-a-kind.
GO GOTHIC WITH WOOD AND STONE
This set of driveway gates feels like something out of a different era. We designed a custom stone vestibule entryway with arched walls and gate opening. The gates are made from durable mahogany (which naturally resists rot and pests) and feature tall pickets and a solid bottom panel. An antique-style swag light completes the gothic look.
MIX WOOD AND METAL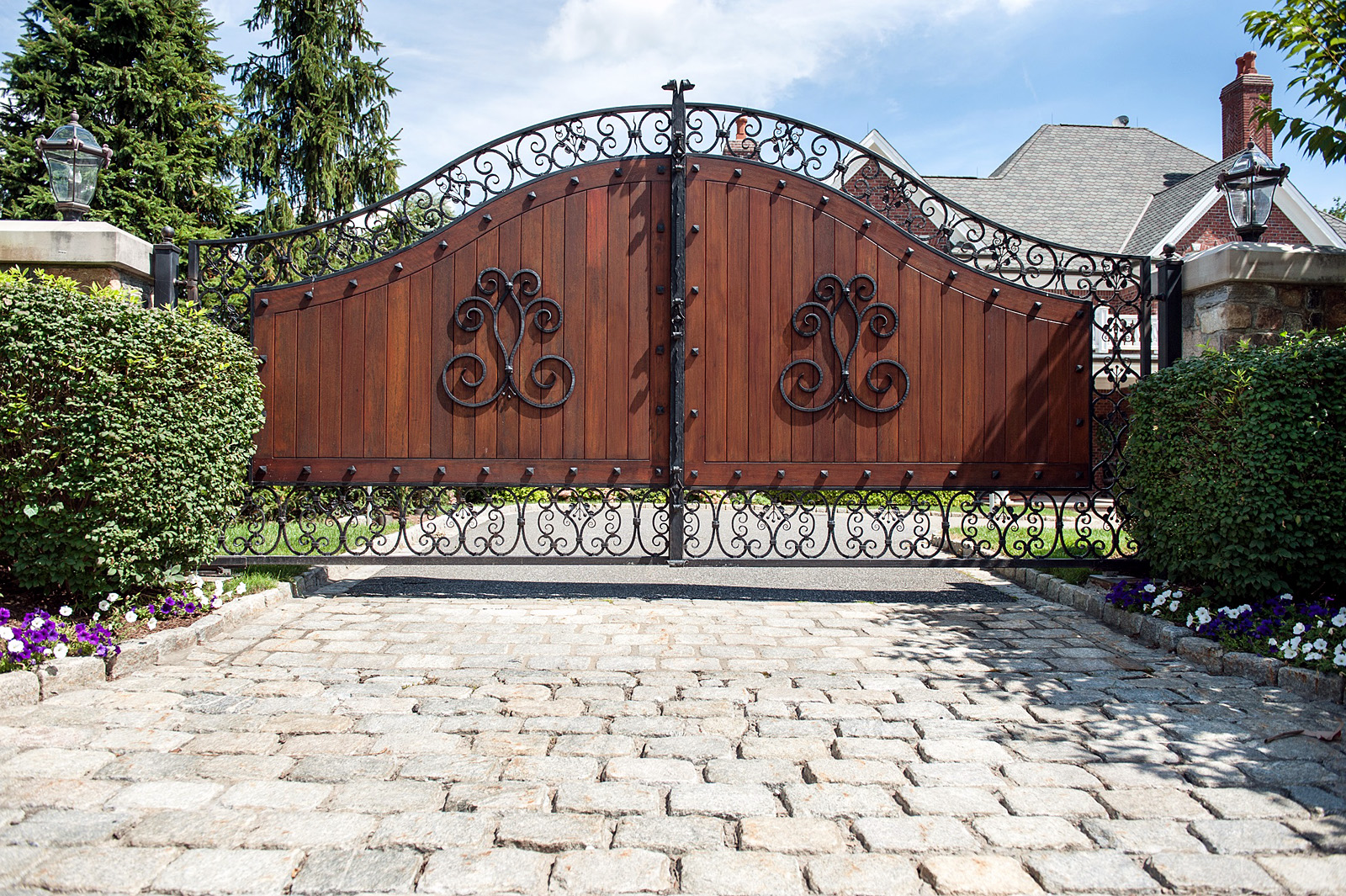 One unexpected way to dress up a basic wooden driveway gate is with custom wrought-iron details. We gave this classic solid-front, farmhouse-style wooden gate an outstanding look with wrought-iron scrolls and swirls. Ornate metalwork frames the solid wooden panel. You're not going to see a design like this anywhere else!
WEATHERED WOOD AND HEAVY HINGES
All wood weathers over time. Most homeowners re-stain their driveway gates every so often (we recommend every five years as a ballpark), but a wooden gate can be left to the elements for a gorgeous look. Tri State Gate can leave the material unfinished until it achieves the look you want, then apply a clear sealant to lock it in. For this property, we added custom-made strap hinges, another design element that can make your gate all your own.
VINTAGE CUSTOM METALWORK
With this driveway gate, we designed a frame that mixes arches and straight lines, adding vertical metal pickets to break up the open spaces. Then, we crafted custom metal strap hinges and accents, attaching them with hand-made metal rivets. The result is a vintage-inspired wooden gate that gives this driveway major personality and curb appeal.
MAKE FARMHOUSE LOOK MODERN
Wooden gates are often associated with traditional designs. However, with this driveway gate, we went for super-straight, ultra-clean lines and a crisp, white paint finish. The inspiration was a ranch gate, but the end result is purely modern. This gate is functional and eye-catching.
A GATE INSPIRED BY ART
This driveway gate design is actually composed of nothing but straight lines. However, the subtle use of horizontal accents within the vertical pickets as well as squares along the top give this one a touch of arts-and-crafts architecture.
As you can see, there certainly are ornamental design options for wooden driveway gates. Check out Tri State Gate's wooden driveway gate gallery for many more inspiring ideas.
We'd love to talk to you about your gate design goals! We work with residential and commercial properties of all sizes. Fill out our contact form or call us for a consultation – 914-244-0018