WOOD GATES: What's Behind that Naturally Beautiful Look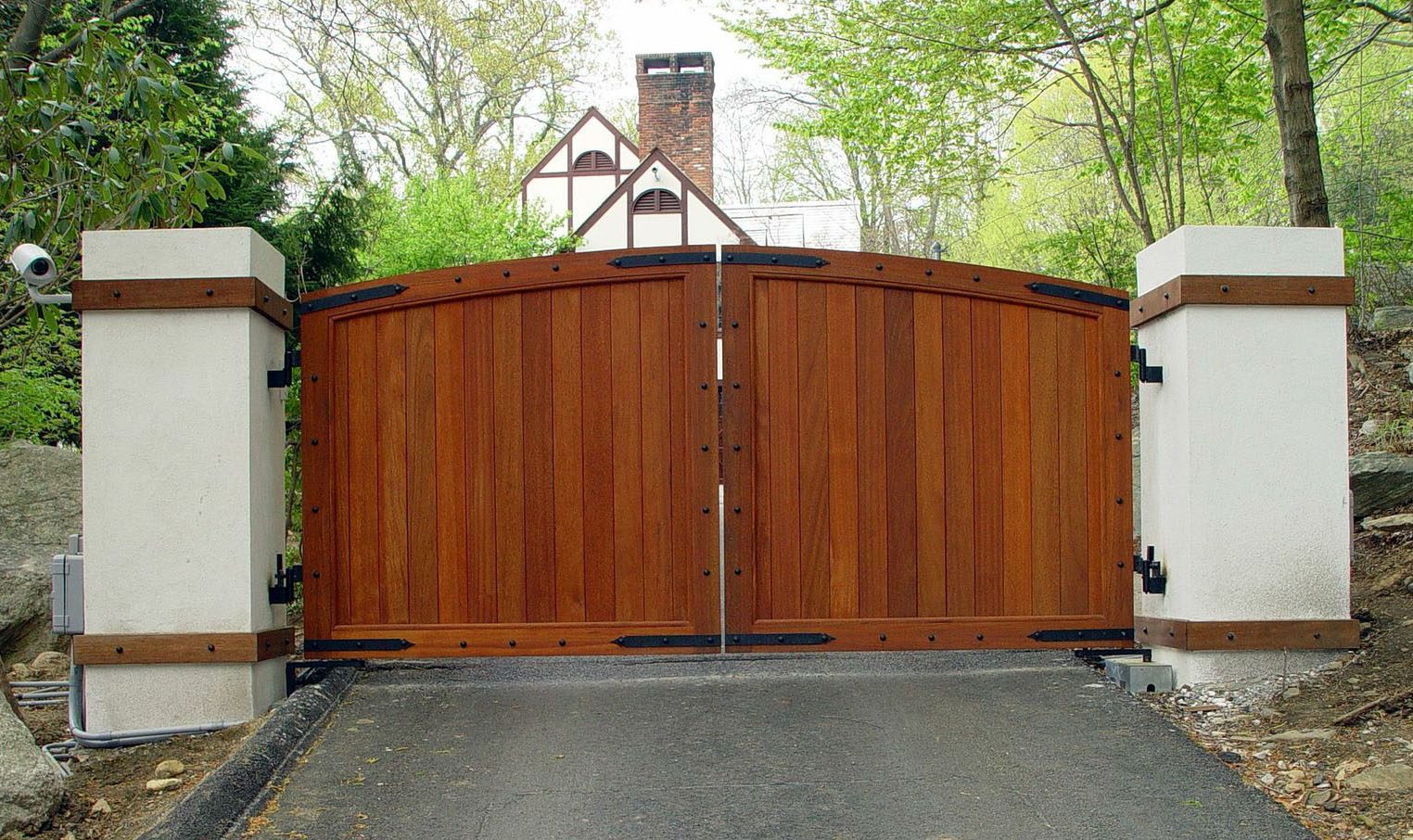 Wood gates are ideal if you're seeking privacy and a warm, natural look. When fabricating wooden driveway gates, we start with a steel frame and wrap it with cedar or mahogany. Here are some key factors to consider:
Appearance – Wood has a welcoming feel and ages gracefully. Over time, wood gates can take on an earthy, weathered tone that adds character. At Tri State Gate, our go-to wood is select-grade clear western red cedar, which doesn't have many knots in the wood. Mahogany is a stronger wood with nice grain patterns; we use it on request. Generally, wood gates are painted with one coat of primer and two coats of finish for any standard outdoor paint color. (You can provide us with the exact color formula; paint from Sherwin Williams or Benjamin Moore is preferred.) Staining is a great option for higher-grade woods as it accentuates the natural wood grain.
Maintenance – Both western red cedar and mahogany are known for their longevity. Cedar is naturally resistant to insects and resists rot for longer than many other woods; mahogany (being a harder wood) resists rot even better. Wood gates typically need to be painted and stained every 5-7 years, or about as often as you paint your house.
Privacy – Wood inherently offers more privacy than iron. When looking at a wood gate (regardless of style), your eye naturally stops at the gate. In comparison, the open design of an iron gate encourages you to look beyond. To ensure structural integrity and privacy over time, we typically fabricate vertical wood panels using tongue and groove construction. With simple board-on-board construction, spaces can form between panels due to natural expansion and contraction caused by weather. With tongue and groove, any gaps are hidden by the "tongue" extending out past the board.
Environmental Friendliness – Wood is typically sourced from sustainable farms.
Cost – Because our wooden driveway gates have a steel frame, they're essentially two gates in one. As a result, they're often more expensive than a basic iron gate. However, wood gates have a smaller variation in cost. Iron gates, on the other hand, offer a greater variety of design options and can get much more expensive than wood gates.
See some of our wooden driveway gate designs in our photo gallery for ideas.
WROUGHT IRON GATES: A Reputation for Strength and Elegance
One of the longest-lasting materials available, iron is prized for its durability. Opting for a wrought-iron driveway gate allows for a wide range of custom gate designs, from ornate loops to modern lines to sculptural elements. The open nature of iron gate designs is ideal if you want to showcase your property.
Appearance – Whether it's a simple, elegant design or an elaborate custom work, an iron gate adds instant curb appeal that can boost your property's value. The openness offers a window into your property and makes the entrance feel spacious.
Maintenance – Iron is a tough metal that can withstand heavy use and harsh conditions. When properly cared for, iron gates can last for generations. Wrought iron must be painted to avoid rusting and flaking. Iron gates typically get one coat of primer and two coats of finish. Like with wood, repainting is recommended every 5-7 years. Our gate repair techs drive fully stocked trucks, so any damage to iron gates can usually be repaired on-site.
Privacy – Wrought-iron driveway gates typically don't conceal your property, but that can be viewed as a benefit: a gate you can see through allows you to easily monitor what's happening on the other side.
Environmental Friendliness – Wrought iron is recyclable and reusable.
Cost – Costs vary widely depending on size and customization. Iron gates with simple designs are fairly inexpensive while ornate design features can lead to significantly higher costs.
Take a look at our photo gallery of wrought-iron driveway gate designs for ideas.
COMPOSITE GATES: Eco-Friendly and Low Maintenance
Composite gates look almost identical to wood gates but require less maintenance. This ideal scenario comes with a higher cost, but if you value low upkeep it's a worthwhile investment.
Appearance – While wood has natural grain and composite does not, it's almost impossible to tell the difference after both materials are painted. Composite is naturally white and must be painted – you can choose from a full spectrum of paint colors, but staining is not an option.
Maintenance – Tri State Gate's composite gates are made from lightweight yet dense PVC material that will never rot. Unlike low-grade PVC composite, which is hollow, our composite is completely solid and built around a steel frame, making for an extremely durable and highly weather-resistant driveway entry gate.
Privacy – Similar to wood gates, more privacy can be achieved by placing the panels closer together (or go for full privacy by using tongue and groove construction). To balance a private yet open feel, consider pairing a solid tongue-and-groove bottom with a picket-style topper.
Environmental Friendliness – No lumber needed; composite is made with recyclable materials and is highly eco-friendly.
Cost – Composite driveway gates cost more than wooden driveway gates, largely because they require more labor to construct. However, this higher up-front cost is offset by less maintenance over the life of the gate.
See some of our composite gate installations in Tri State Gate's product gallery.
Tri State Gate is a custom gate company specializing in gate design, fabrication, installation, automation, maintenance and repair for residential driveways, community entrances, commercial properties, high-security locations and industrial settings. We serve New York, Connecticut, New Jersey, Vermont, Massachusetts and surrounding areas.